Keeping a Parents' Diary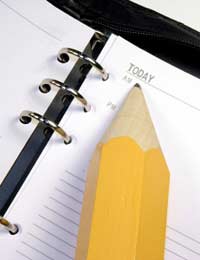 One of the biggest things a mother can do is to hand over her child to someone else to look after. Whether this is a relation, a childminder, nanny, or nursery staff at a day nursery, it is a daunting prospect.
For the time whilst their child is away from them, questions abound as to what they are doing, how they're behaving, whether they are happy, and so on.
For many mums, there is no real substitute for being able to be with your child one hundred per cent of the time, but for most, it is just not practical. Therefore any mechanisms which help ease the transition of leaving your child for the first time are welcome.
One such mechanism is a parent's diary.
The Diary
A very good way of keeping good communication between parents and child is by maintaining a detailed diary.
If your child is very young, then it's important that you know when they have slept, been away, eaten, what they have enjoyed and so on. The care-givers for your baby should make detailed notes – especially in the early days – to tell you exactly what has happened in your absence. They should also try to speak to you each day if possible as well.
Building a Bond
Baby workers should build a bond with your baby so that you know they are being looked after by a familiar face, but also help you to feel as if you are not missing out. If you don't feel you're getting enough feedback, ask what your baby liked and disliked about the day and request that it is noted down in the diary.
A Two-Way Process
The diary should not just be a one-way means of communication, but is most effectively used when the parents are also invited to jot down anything that may help the nursery. For instance, if your child took his or her first step, is teething, seems feverish or upset, or might be more tired than usual after a great day out - these are all things which would be important for the nursery staff to know.
Sometimes, when lots of parents are dropping off children in the morning, it can be difficult to have a proper chat with your nursery worker, but – unless a matter of importance - if you are able to quickly hand over the diary with your child, your notes and comments can be read at leisure and given the required time and attention they deserve. In this way, the diary can be easier than having a chat, during busy periods.
Older Children
For older children, the diary system can be invaluable for telling you more about what your child has learned and achieved during the day or week; who they have played with and what relationships they are enjoying. This kind of information can be very important for parents and help provide them with precious information and joy.
Continuity of Care
Because the parents have been informed as to what their child has been doing, they are much better able to maintain good communication by asking them about their activities, and chatting about what they've done. Similarly, they can mention friends they might otherwise not know, but who are significant in their child's nursery life, and also extend learning by reflecting what they have been doing in nursery through play or by reading books together at home.
A Keep-Sake
Finally, the nursery parent's diary can make a wonderful and precious keep-sake. For the times you weren't able to be with your child, you will be left with a wonderful account of their time, day by day, which you can put away and will have forever.
In this way, the parent's diary provides an excellent system of two-way communication which has the child's best interests at heart and also gives the parents greater involvement and reassurance.
You might also like...