How to Ensure Sufficient Staff Coverage at Day Nurseries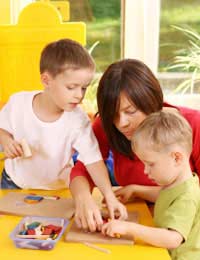 When planning the opening of a day nursery or other child care business, care must be taken to be sure that the company has hired sufficient staff to ensure ample coverage for all business hours as the law and insurance carriers require. There are varying requirements for staff/child ratios depending on the type of facility and the ages of the children in question, but all such businesses must offer permanent employment to enough carers so that the ratios never fall below the legal standards.
Staff to Child Ratios for Day Nurseries
Young children require a great deal of attention and interaction with responsible, involved carers, so laws have been put in place in order to help ensure their welfare and safety. Current standards call for the following child/staff ratios for day nurseries:
Children Under 2 -- 3:1 If there are an abundance of young babies in a group at any given time, the ratio may be adjusted to 2:1.
Two-Year-Olds - 4:1
Three to Seven-Year-Olds - 8:1
Other types of child care services, such as childminders and pre-schools, may have different requirements, but all varieties of registered care centres are under an obligation to provide proper staff coverage during al hours of operation. All facilities are subject to inspections without prior notification, so it is vital that nursery owners see to it that their centres are always appropriately staffed.
Hiring Part Time Staff for Day Nurseries
Day nurseries can get quite busy at times and it may be beneficial for owners to employ some part time help to provide extra coverage during certain hours of the day so that the business always runs smoothly. These same helpers may be offered additional hours to cover the holidays and sick time for permanent, full time employees, as well. Such employment may work well for university students who are studying to become early childhood educators, giving them useful, hands-on experience whilst providing a valuable, yet affordable solution for day nursery owners. By law, at least half of the staff at day nurseries must be qualified in an early years discipline, but the remainder of the employees have no such requirement.
Overstaffing to Ensure Ample Coverage
One obvious solution to the problem of possible understaffing due to holidays and employee sick time is for nurseries to regularly maintain a higher ratio of staff members to children than what is required in accordance with current child care laws. While this is certain to increase business expenses for the nursery, hiring additional employees may be considered an attractive benefit for parents who are weighing their child care options. Additional permanent staff means more one-on-one attention for each child, so in areas where finances permit it, parents may be willing to pay higher fees in order to ensure that their children get the uppermost in quality care.
Minimising Absenteeism in Day Nursery Staff
Nurseries that are operating at just the required child/staff ratios can find themselves in quite a bind on days when, as is bound to happen, an employee or two calls in sick. While everyone will occasionally get sick, oftentimes employee time off is more related to their unhappiness at work rather than not being able to come in because of illness or injury, so creating a cheerful work environment that promotes the feeling that employees are valued and appreciated is likely to minimise unnecessary absenteeism.
Employee incentives for attendance can improve morale and discourage employees from calling off of work except when absolutely necessary. Year-end or quarterly bonuses that are based, at least partially, on attendance can help, as can programmes such as "employee of the month" that give recognition to dedicated workers. While there is some cost involved in providing employee incentives for good attendance, they are usually less expensive than hiring additional staff to provide overlap coverage.
RUN A DAY NURSERY IS FOR SALE.
This website is for sale [more info].
You might also like...
I know someone who works in a nursery where She is left alone with 8 children who range from 2-3 year olds, for 1-2 hours . I know it's not right but She is told by her manager that's she does not have enough money to hire more people
Harry
- 20-Oct-18 @ 3:24 PM