Preparing to Leave Your Child at Day Nursery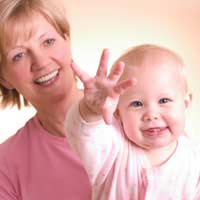 Preparing to leave your child at a day nursery for the first time is one of the hardest things any mother has to do. Perhaps you are returning to work after maternity leave, or perhaps you feel your child needs extra stimulus available at nursery – or maybe you just crave a few hours to yourself once or twice a week! Whichever the answer, the actual point of leaving is never easy.
Here we give you tips to help make the transition a little smoother for you and your child.
Get Your Child Used to the Idea of Nursery
When you know your child is going to be going to nursery, depending on their age of course, get them used to the idea gradually and in a non-threatening way.
Begin to introduce the concept of being with other children for a play-time and interacting with other adults. Show him or her other children who might be going or returning from nursery and discuss this topic with your child. The idea of a day nursery crops up on many children's television programmes and so choose a time when you are not busy with other things, to sit down with your child and watch and chat about what is being shown. Similarly, choose a book from the library that explores this topic spend some time together looking at it.
Make it a Special Time
Shortly before your child is due to start his or her first day, drive, or walk past the nursery regularly so that he recognises the location and building and identifies with being there.
Then go out on a special trip together to buy a new outfit, drinks bottle, or book etc, for nursery so that when the time comes, the first day can be linked in your child's mind as an exciting, new, and 'grown up' thing to be happening.
Before you take your child to nursery for the first time, check their policy on whether children can bring loved toys in. Some managers allow a comfort animal or blanket whilst others dissuade children from bringing in their own things. A simple mistake being made such as a beloved teddy being 'confiscated' could be devastating for a child and is something best avoided.
The First Day
All children react differently to the start of nursery. Some are more than 'ready' and go in with hardly a backward glance, whilst for others it is a more daunting experience. However, it's usually the mums who are the most nervous!
Try to be strong for your child and not allow them to see if you are upset. Be bright and breezy, smiley and encouraging. Once in the doorway, establish quickly who your child's special worker is and cement that bond by being supportive of their role.
By far the best thing to do is to pass your child across and with a confident smile, kiss, and firm statement that you will be back soon, leave the room.
If your child cries loudly, it can be enormously upsetting, and this is the moment when most parents feel irrational and guilty. However, the nursery staff will assure you that as soon as they have distracted your child's attention, they will be fine. Some nurseries even have a CCTV camera for you to check on your child from another room, so that you can see the change for yourself.
Settling In Period
Most nurseries will operate a settling in period during the first couple of weeks, whereby you leave your child for gradually longer and longer periods. This is a very useful policy as it enables child and parent alike to get used to the new arrangements and to being apart from each other in a controlled and secure way.
Looking After Yourself
The worst thing you can do when you leave your child at day nursery is to feel guilty. If you have to return to work, you need to reassure yourself that your child is in good, professional hands and that you are bringing in an income in order to improve his/her comfort and support your family lifestyle. And don't keep things to yourself - talk to other mothers in the workplace – you'll be surprised at just how many there are who have been through it and know exactly how you're feeling!
Use the Time
And if you're able to, then why not do something purely for yourself with an hour or so of the time when your child is at nursery? Go to the gym, have your nails done, or meet a friend for coffee. Mothers have precious little time to themselves, and a more relaxed and confident mum means more quality time for your child!
RUN A DAY NURSERY IS FOR SALE.
This website is for sale [more info].
You might also like...
I'd suggest a visit to the day care with your child first so it's not presented as a completely new environment on their first day there. That way leaving them there won't seem so difficult, for either of you. Also, for the first day, try to make it half day. A full day isn't just hard on your child, the first separation from you, it's hard on you, too. Not going all the way all at once can make it easier.
Ella
- 11-Jun-12 @ 1:17 PM