Potty Training: Working With Your Nursery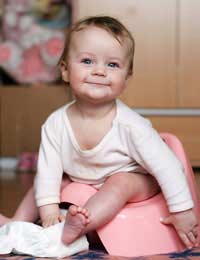 Potty training is something that even the most 'earthy' of Earth Mothers looks forward to with trepidation – not so much because of the process itself, but more due to the possibility of wet beds, wet clothes, puddles on the floor … or worse! And when you are trying to train a child who attends a day nursery, it is essential that you have the nursery workers on board.
When to Start Potty Training
The glib answer to this question of when to start potty training your child is; 'as early as possible' – thereby cutting down on the expense and hassle of nappies. However, the real answer should be 'when your child is ready'. And how do you know this? Well, between the ages of 2 and 3, most children are suggestive to toileting and will adapt quite quickly. Even if you delay training, or your child just isn't willing, sooner or later they will naturally copy what other children are doing – so don't worry!
Children at Day Nursery
If most daily nappy changes are done by nursery staff at your child's nursery, then it may well be the case that their individual worker will mention potty training to you and ask you if you'd like to have a go. However, in most cases, it will be up to the parent to decide on an appropriate time to start, in which case you will need help and support from the nursery.
Chat to your Nursery
Make an appointment to see your child's nursery nurse and mention that you are thinking of beginning potty training. Ask for their assessment of your child and don't be shy of asking for their hints and tips on what (and what not) to do, as this will be something they have helped with many times before.
Make a Plan
Ask about the nursery policies for potty training and how they manage the process, as each nursery will have their own routine. For some you will need to supply a potty for your child whereas others will have their own; some will try to have allocated times for sitting the children on potties, whilst others will leave it up to the child to decide, and so on. But the main point is to adopt a plan together so that what your child is experiencing at home is not at odds with what is happening in the nursery … as confusion can lead to disaster!
…and Stick to It!
The worst thing that can happen is for the training period to be totally haphazard. If you are trying to persist with a potty at home and not resort to nappies, it's no use finding the nursery staff are ignoring the potty and using a nappy for their own ease. Similarly if you start training just before a holiday, then stop for ease of travelling etc, it can be very confusing for the child – so pick your time wisely.
Nights Vs Days
Having said that, don't make a rod for your own back by trying to do everything at once. It is one thing to be mopping up the odd accident during the day, but quite another to be getting up three times a night to change wet sheets! Give yourself – and your child – a break, by conquering dry days before thinking about the nights.
Small Steps
Each child is different and whilst one will learn to adapt quickly, another may take more time. But for all children, doing things in simple stages is far easier for them – and for you. So, the first stage would be to merely introduce your child to the idea of the potty. Read a book from the library together about potties and talk about the concept together. Gently begin to associate nappies with younger children and ask your child if they would like to go out and choose a potty now they are older.
First Stages
Once you have a potty (or two!), place it in the bathroom or where you do your nappy changes and mention it each time you go to change your child. Gradually try placing your child on the potty so they can experience the feeling both at times when you know they may not need to 'go' and before replacing a nappy.
Second Stages
Once your child is used to this strange potty object, it's time to put the full plan into action. Along with the nursery, decide on a day to start and then each time your child seems to want to go to the toilet, help him or her onto the potty. If there's a success, then be sure to give plenty of praise!
Accidents Will Happen!
Remember, unless you're very lucky, it's not going to be all plain sailing, – accidents will happen! But by keeping any mishaps low-key and by not introducing stress to the situation, it's just a matter of practise making perfect.
RUN A DAY NURSERY IS FOR SALE.
This website is for sale [more info].
You might also like...