What to Do When a Child Says No!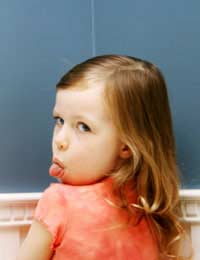 We all love children with an independent mind … after all, this is what all good parents and nursery workers want – a child who learns to think effectively and act independently. So what happens when at 2, 3 or 4 years old, they suddenly say "No!"?
Mimicking Carers
Some children learn to say 'No' because it is a word they hear a lot from the people looking after them. For this reason, nursery workers should avoid over-use of the word and to find other ways of expressing 'no' to children where possible.
Giving Options
A child will be less likely to say no if they aren't given the possibility in the first place. Where practicable, a child should be given a limited choice. This helps them think, plan and make decisions as well helping them exert some control without becoming confused with endless possibilities. For instance instead of saying, "Put your hat on", you could ask, "Would you like your hat on or your hood up?"
Experimenting with Boundaries
Nevertheless, sooner or later children will experiment with saying no. They may either witness other children who do so and copy, or they may just try it to find out what happens. Children are designed to push boundaries and we train them from an early age to recognise choices and make decisions for themselves. In saying 'no' for the first time, they discover what an extraordinarily powerful little word it is and how much effect it can have. The nursery worker should recognise signs of this natural exploration whilst also managing the consequences.
Understanding the Reason for a Child Saying 'No'
Some children appear to have a greater need for asserting their opinions and it can be a challenging time for a nursery worker when a child continually says no. It is, however, important for them to try to understand why the child is doing this and whether there is another reason for their frustration which they find difficult to articulate, such as friendship problems, tiredness, hunger and so on.
Reasoning
A good technique when a child says 'no' is to reason with them. Rather than simply repeat the demand and so potentially spark a full-blown tantrum, acknowledge their feelings, then explain the reason for your request and what might happen if they don't do it. Ask the child why they don't wish to do what you need and try to modify the task if reasonable to do so.
Distraction
Another helpful solution is to distract the child. Simply by turning the request into a game, a song or a playful challenge often avoids the opportunity for a child to say 'no' and gets the job done just the same.
When One 'No' Affects the Whole Group
It can happen that if a particularly vocal or strong-willed child says 'no' when a number of children are all being asked to do something, it can unsettle the whole group. Some children will be worried by the refusal whilst others may copy it or giggle. It is important that when this happens, the nursery worker quickly controls the situation. Usually, the simplest solution is to praise the other children for doing what you asked and explain what a shame it is that X doesn't wish to do it, because he/she might miss out on the activity. Then give child X another chance to do the task before issuing a gentle warning and following through by exclusion for a short period of time if they are still resistant.
'Genuine' Refusal
There are other occasions when a child has a genuine dislike of doing something and maintains a steady and belligerent refusal to do it. If the child is not in immediate danger, then it can be worthwhile exploring the reason for their refusal and why they might not like a certain task. If it can be made nicer, better, or more fun with relatively little trouble, then this would be the way to make it more palatable for the child and certainly a conversation with the parents may throw more light on the situation.
Phobias
Very occasionally, a child may be saying 'no' for a more deeply routed reason, such as fear. When this is the case, it is important that the situation is approached more sensitively. If possible, it should be ascertained why the child is nervous or scared of doing something and explored through gentle, non-confrontational discussion or play therapy. The issue should be raised with the parents and an ongoing strategy planned, seeking more professional help if needed.
Benefit in Adulthood
One thing to remember about working with children entering this contrary stage is that saying 'no' helps to develop a strong sense of self and a child who displays this behaviour in a secure and safe setting early on is more likely to keep it as they grow older.
RUN A DAY NURSERY IS FOR SALE.
This website is for sale [more info].
You might also like...