Prospective Parent Tours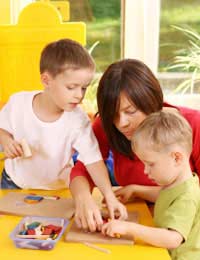 When running a day nursery, it is very important that new prospective parents are given the chance to be shown around, either with or without their child. All parents want to find the best possible childcare option for their family and to be able to see what choices are on offer and visit childcare venues in person, is essential.
What Should the Tour Aim to Offer?
For the day nursery, such tours are a prime opportunity to actively demonstrate to the interested observer how well run the nursery is, that children are happy and being well cared for and that the environment is safe and welcoming. Each visiting parent is a potential new client, thus tours also provide the basis of future income for a private day nursery.
How Should the Tour be Arranged?
When receiving a new inquiry from prospective parents, it is important to provide as much flexibility as possible in fitting around their schedule, whilst at the same time maintaining control over the nursery's daily routine. If there are a large number of calls, try to keep visits to regular set times, so that the flow of the day is disturbed as little as possible.
Preparing for Prospective Parent Tours
Although all nursery managers want prospective new parents to see the nursery as it really is, they should also aim to show the nursery environment at its best. A good manager should know exactly what 'feel' they are trying to create for the children at their nursery and convey this to both staff and parents. They need to be able to explain coherently the main ethos of the nursery and where they place their emphasis.
Involving the Staff
It is also a good idea to make sure that all nursery staff are fully aware of any parental visits and that they are being good role models. Nothing can be more off-putting to new prospective parents than uncommunicative nursery staff standing around not interacting or playing with the children. Simple strategies to help keep staff aware of how they might come across, is to practise some simple role-playing at staff meetings to ensure that nursery nurses can answer any questions prospective parents will want to ask.
Involving the Children
It is just as important to explain to the children that sometimes mummies and daddies may want to come and visit the nursery to see how much fun children can have and to see if their own little boy or girl will come and play too. This helps the children understand that adults they don't recognise will be visiting from time to time.
What Form Should the Tour Take?
On the day of the visit, new parents should be welcomed at their appointed time at the main entrance to the nursery, and any security precautions taken. The Manager should then have a short chat with them to ascertain what kind of childcare they are ideally looking for and to find out what they would like to see most in the nursery. This helps the Manager to point out particular aspects that might help the parents make their decision and is more likely to lead to a successful tour. If they have brought their son or daughter along, they should never be forgotten, but also acknowledged individually and included in the visit. Parents are not only seeing for themselves what the nursery may offer them, as adults, but what the reaction of their child might be to the staff and the whole nursery environment - and first impressions really count!
An Accompanied Tour
Following this initial chat, parents should be led on an accompanied tour, and given the chance to see each room in the nursery, paying particular attention to the room where their child may start off, as well as any outside, bathroom or eating areas,. They should be able to ask any questions and if convenient, speak to other members of the staff. Visitors to the nursery should never be left alone at any time and the security policy of the premises should be made clear to them.
Practicalities
In summary, all prospective new parents will wish to find a nursery environment which is safe, secure, clean, comfortable, friendly, welcoming, fun, interactive, educational, and so on. For this reason, nurseries should be should be able to demonstrate these things on any guided tour.
RUN A DAY NURSERY IS FOR SALE.
This website is for sale [more info].
You might also like...
Very useful site, relevant Information. I'm always checking in.
Roseyposey
- 5-Oct-11 @ 10:10 PM