Organising a Nursery Sports Day: A Case Study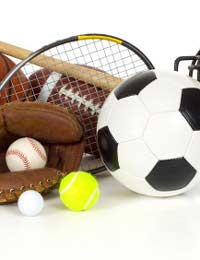 The school or nursery sports day is a grand British tradition and an event which – whatever our own childhood experiences were – burns bright in our collective memory. Held in the (hopefully) fine July days at the end of the summer term, Sports Day is a chance for a bit of relaxation and fun where parents come to cheer on their little tots in a variety of sporting activities, and even join in themselves.
But behind all the fun, goes a lot of hard work. We decided to visit one day nursery in Leicestershire to find out what's involved in planning a nursery sports day. Here, Manager, Lee explains how she organises the event:
Organisation is Key
The secret of co-ordinating any successful event, be it a sports day or something else, is in the organisation – and its never more important than when planning to have lots of pre-school children running around! Each year we look forward half with enthusiasm and anticipation and half with trepidation as we begin to do our planning!
Planning Meeting
Over many years I've learned that if I start early, it's more likely that we'll have covered all the bases by the time the big day arrives. Usually, this starts with a planning meeting with my key staff at the beginning of May. Because we're an independent nursery, I'm lucky in that we can be quite flexible in timing the event and picking an exact day nearer the time, but I have a friend who manages a pre-school attached to a primary school who has to work with the main school calendar to a large extent and it's a much more 'fixed' thing.
Agenda
The aim of the first planning session is to block out a week in the diary when we think we might hold the sports day. Depending on the weather, this is usually around mid-July time before many children go off for their summer holidays. We also go through a check list of all the criteria to think about and then plan further, regular meetings with designated staff to cover those points. The things we have to think about include:
Health and Safety (obviously this is a big one)
The weather (sun-screen, hats, shelter, drinks etc) – its always a big issue!
Administration involved (letters to parents, purchasing of prizes etc)
Staff roles (on the day the children need quite a bit of guidance to keep things moving along)
Games (we choose a variety of different ones to reflect different skills of the children)
Drinks and snacks
Contingency plan in the event of cancellation!
Nearer the TimeOnce we've sorted out the basics, as it were, we can get our teeth into the nitty gritty of the event and start having fun as the time approaches. We group the children into approximate 'teams' where we think they will work well and which includes different abilities and talents and start working with them in those groups to see how they gel.
Prepare the Children
One of the things I really like to make sure of is that we prepare the children well ahead of time. I remember one disastrous year when I didn't do this properly and basically the kids didn't have a clue what they were doing! It was fun anyway, but kind of fell apart. So since then, we try to incorporate the concept of games, fun, and sport into our learning and discussion times with the children so that they know a bit more what its all about.
Practise Makes Perfect
We also practise the games with the children before the big day arrives. This helps them get used to the activities, what they need to do and also helps take the fear away from the less confident ones. We always make certain that any competitiveness doesn't get out of hand and that all the children participate at a level which is appropriate to them.
Expect the Unexpected!
But even with the best planning in the world, something always happens which you didn't expect! Whether it be a rabbit hopping blithely across the path of some egg-and-spoon racers, which happened one year to us – or a child running to his/her Mum or Dad instead of the end line (which has happened more than once!), you need to be prepared for every eventuality and take it as it comes along!
Enjoy It
The main thing to remember, I think, is that it's a day when everyone is supposed to have fun – the staff, the children, and the parents. We always invite the parents to run a race at the end and the children absolutely love this – and we also have a staff race with parents and children cheering which is brilliant! Also, we like to give out prizes and medals in different categories (which don't always include just those kids who come first) and its lovely to see how proud they are …in fact, I can't wait to do it all again this year!
RUN A DAY NURSERY IS FOR SALE.
This website is for sale [more info].
You might also like...