Interview With a Nursery Manager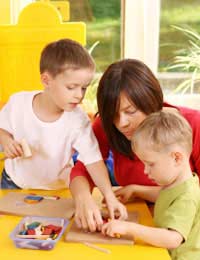 Clare Galsworthy is Director of Childcare at a Day Nursery in Warwickshire. Run a Day Nursery caught up with her busy schedule to ask her more about her role.
Where do you work?
I work at Polkadot Day Nursery in Stratford-upon-Avon. Stratford is a town which has seen a large expansion over recent years and the nursery opened in August 2004 to help meet the demand for extra childcare provision.
How did you get into the job of working in childcare?
I knew from a young age that I wanted to work in childcare. By the age of 16 years I had a place at the prestigious Norland College where I trained to be a Nanny and gained a NNEB and a Norland Diploma Qualification. Once qualified I became a 'live in' Nanny for over 2 years and then cared for a little girl for a further 3 years. When she began in Pre-School in a local Nursery I started working at the same Nursery as a Nursery Nurse in the Baby Room. Within a couple of months I became a Senior Nursery nurse, worked my way to Deputy Manager and finally the Manager of the Nursery. A new opportunity arose to manage Polkadot Day Nursery and I grabbed this with both hands and I have never looked back.
What qualifications do you have to have to be the manager of a nursery?
It is recommended that all Nursery Managers should hold or be willing to work towards a recognised Level 4 qualification.
What kind of nursery is Polkadot, and roughly how many children attend?
A maximum of 47 children may attend the nursery at any one time. The nursery is open each week day from 07:30 to 18:00 for 51 weeks of the year. There are currently 54 children aged from 3 months to 3 years on role. Children come from the local community and the surrounding villages and rural area. Children attend for full day care and sessional care.
Within the Polkadot Group we have a Pre-school, 5 Out of School Clubs and 1 Holiday Club. The Director, supported by me, oversees the running of all settings. Each setting has a Manager to operate the setting on a day to day basis. Polkadot Day Nursery is the group Head Office which is the hub of the company where the administration team is based.
At Polkadot Day Nursery itself we have 3 main rooms; the Baby room (3 months to 18 months), Dots2Tots room (18 months to 2 years) and TopDots room (2 years to 3 years). The age groups are guides as the children move room as and when they are developmentally ready.
How many staff do you have?
Currently we employ 42 staff across the whole business
How do you choose and train your staff?
We aim to ensure that individuals are employed trained and promoted on the basis of occupational skill requirements. Training is an on-going process for all staff and begins with the induction process and further training is well supported by our comprehensive Training and Development Plans for each member of staff.
What do you like best about your job?
Each day offers new and different challenges but the area I enjoy most is the opportunity to spend time in the Baby Unit having cuddles and seeing each child develop and their character blossom.
What happens in a typical day?
No two days are the same and the variety of the work is what makes this role enjoyable.
Most days begin with greeting the children and parents. This entails listening to the parent's requests and answering their queries to ensure their child will be happy for the coming day.
Once children are settled I begin my tasks. These are wide ranging and include being responsible for the staff and ensuring the children are provided with excellent childcare.
The staff are vitally important and a substantial part of my day is spent supporting their needs through training, mentoring, appraising and sharing in their individual achievements.
Parents are equally important and building these relationships is an essential part of my job. This is achieved through daily contact in person, through phone calls and emails.
Another substantial and on-going job is co-ordinating staff, throughout the business, to ensure the staff to child ratios are met at all times. As extra children are booked into our After School Clubs or children and staff report in sick, changes need to be made.
Finally, at the end of each day I have the opportunity to be involved in the children leaving. This is a pleasurable moment as it allows me to participate in the excitement of children seeing their parents and sharing their achievements and successes from that day.
What is the most challenging part of your work?
As with all jobs there are challenging moments. For me, I find dealing with Child Protection issues distressing but thankfully, cases are rare. Despite the upset at the time you do realise you are doing the best you can for the children in your care.
How do you like to spend your time away from work?
I endeavour to work hard and am passionate about my role and what we can achieve but whenever, I do have some annual leave, I love to jump on a 'plane and enjoy a relaxing holiday in the sun!
RUN A DAY NURSERY IS FOR SALE.
This website is for sale [more info].
You might also like...