Interview With an Ofsted Inspector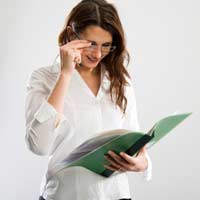 In September 2010 Ofsted began outsourcing inspections of early years settings to Tribal and Prospects Services Ltd. Many of the inspections and registration visits continue to be carried out by inspectors who transferred from Ofsted, and all have expertise and knowledge of the early years sector.
One of these experienced inspectors is Heather Morgan, who transferred from Ofsted to Tribal as a Senior Inspector. Heather began her career in the late 1970s when she trained as a nursery nurse in a residential children's home. Since then, she has worked in a range of diverse settings, gaining experience in caring for children in their own home, looking after premature babies in hospital and working with children of all ages in nurseries and boarding schools.
We spoke to Heather to find out what a day in the life of an early years inspector is like.
What does an Early Years Inspector do?
Inspectors do a range of regulatory work which includes inspecting all kinds of settings, registering new providers, checking the suitability of childminders, nursery owners, managers and others who are responsible for childcare settings, and investigating concerns that are raised by providers, parents and members of the public.
What might a typical week's diary look like for you?
Every week is different as we travel widely it includes a range of inspection visits. We are based at home, which is where we type up our inspection reports.
What are the steps leading up to a formal Ofsted inspection?
Inspectors spend time finding out as much as they can about the nursery before they arrive, including reading the self-evaluation form. The nursery's previous inspection report helps the inspector identify what steps for improvement were recommended last time around. The inspector will also check to see if there have been any concerns raised about the nursery since the previous inspection. This information is then used to prepare the inspector's 'toolkit', which is the document used to guide them through the inspection process.
On the day of a nursery visit, what usually happens?
During the inspection, the inspector is trying to find out the answer to the question 'What is it like to be a child here?' We do this by observing children as they play, chatting with parents and members of staff, through discussion with the managers and owners of the nursery, and by scrutinising some of the documentation used for the smooth running of the nursery. We usually track a few individual children, to get a really clear picture of how children's welfare, learning and development are supported.
All settings have to comply with a range of welfare requirements. There is always a strong focus on finding out how the nursery meets its safeguarding responsibilities as this is one of the key judgements that influences the decisions the inspector makes.
Can you give any examples of good or poor standards?
We see a whole range of different practice, and styles of early years provision. I've been privileged to see some outstanding practice, which is always underpinned by enthusiastic staff who put children at the heart of everything they do. Much of the really good practice I've seen has been in nurseries that make regular use of their outdoor area to offer children a wide range of learning experiences.
Unfortunately we also sometimes see examples of poor practice, and this can be the result of various different shortcomings. Sometimes, it's simply poor standards of health and safety, and on other occasions we witness bored or distressed children, or poor behaviour, which impacts on all of the children.
What happens when you have to address the issue of poor standards with a nursery manager?
It is often challenging to deliver difficult messages, but inspectors have a responsibility to improve services for children. Therefore, however difficult the message, it is important that we share our findings clearly with nursery managers. We try to give clear examples of what we have seen that has led to our judgements and set actions and recommendations to help nurseries improve their practice, and signpost them to where they can get support in helping them do this, such as through their Local Authority Advisor.
What is satisfying/enjoyable/challenging about it?
I really enjoy my job as no two days are the same. I have the opportunity to visit lots of different kinds of childcare providers and meet many children and early years professionals. The work is often challenging as we have to collect a great deal of evidence to support our judgements. Sometimes we have to deliver difficult messages, but we also have the privilege of sharing good news with hard working, enthusiastic early years workers. We also have a huge responsibility to get our job right as it has an impact not only on the lives of the youngest children in our society, but also on the nursery staff providing care on a daily basis.
RUN A DAY NURSERY IS FOR SALE.
This website is for sale [more info].
You might also like...
I would like to set up a montessori school in the uk.I have my ECE and Montessori diploma and have owned my own school in Canada for over 11 years but would now like to move back home to the UK i have been teaching since 1996 both in Spain, Canada and the UK here we have to find the location, then get licensing to inspect then go to the city hall with plans etc..
nicky
- 24-Apr-17 @ 1:29 AM