Hiring Safe and Qualified Employees for Your Day Nursery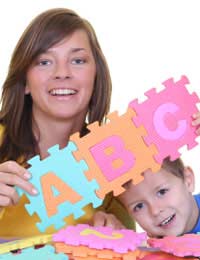 Whether hiring just one employee or a large staff, nursery owners need to utilise a number of resources to ensure the quality and safety of applicants before making offers for employment. Responsible recruitment means prioritising staffing standards when choosing people to guide and nurture the next generation.
Requiring Training for Nursery Workers
Oftentimes, childcare workers who make foolish or unsafe decisions about the welfare of the children in their care do so because they don't know better. Acting on outdated information regarding sleep safety, feeding, or first aid can put children at unnecessary risk, even if their caregivers have the very best intentions. Day nursery owners should make every effort to recruit candidates who have completed at least some training in early childhood development, and should have workplace policies that require all employees to attend occasional on-site training sessions to reinforce what they've learned and to keep up with the latest developments in child care.
Securing Background Checks for Daycare Workers
Tending to the needs of young children may be one of the most important and valuable occupations, and the safety of childcare workers is of paramount concern. Complete background checks should be secured on all applicants before offers of employment are rendered, and candidates should agree to additional, ongoing random criminal checks as a condition of their continued employment.
Standard reference checking should be done, as well, with all professional and personal references listed by an applicant carefully contacted and questioned about the person's previous behaviour, reliability, and perceived level of integrity. In cases where references are from previous employers, it is vital to ascertain why the applicant left that job and whether or not they'd be welcomed, should they one day request to be re-hired.
Providing Adequate Supervision for Nursery Staff
The ultimate responsibility for seeing that children are safe and well cared for at day nurseries and pre-schools lies with the owners of the facilities, so it is important that they provide adequate supervision for all employees. Every person who has access to children should be observed on a regular basis to ensure that they are interacting with the kids in safe and respectful ways, and that they are diligent about carrying out their assigned duties. Daycare teachers should be accustomed to unscheduled visits from supervisors and those at a management level must take their responsibilities seriously when dealing with employees.
Encouraging Ongoing Education for Childcare Employees
While it cannot be guaranteed that employees will always act in the best interest of the children entrusted to them, owners of day nurseries can encourage their employees to stay abreast of the latest recommendations regarding quality child care by offering incentives to those who are willing to continue their education in the field. Paying for or sharing the cost of work related classes and seminars is one way to keep the highest quality employees and offering additional benefits can help, too. Bonuses, gift cards, and additional holiday time off can be offered to employees who prove their commitment to their careers by participating in ongoing education.
One of the greatest assets that any business can have is a qualified and dedicated staff. By carefully screening potential hires and then utilising proper training and management techniques, nursery owners can offer their clients the very best possible care for their children.
RUN A DAY NURSERY IS FOR SALE.
This website is for sale [more info].
You might also like...