Interview With a New Day Nursery Worker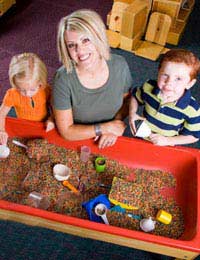 Kerry is a Nursery Nurse in Warwickshire. Here she tells Run a Day Nursery what it's like to work with children for a living and how she got started.
Starting Out
I have always loved children and so it was a pretty easy decision when it came down to deciding what I wanted to do for a career. So I enrolled at my local college and started working towards my NVQ Level 2 in nursery care.I was really lucky and as part of my course, was granted a work placement with Freeland's nursery. There I gained experience in all aspects of nursery life, and really learned a lot.
Favourite Ages
I particularly gained a lot of knowledge in the baby room – helping change, feed and stimulate the babies and supervising sleep times.My favourite age group, though, are the two-year-olds – I love looking after them; they are so sweet and funny! I do all kinds of activities with them – sand play, sticking and gluing, painting, water play, all kinds of things – I just love getting messy!
Placement Portfolio
While I was doing my placement, I had to put together a portfolio as part of my course work and so was able to do little projects with the children, take photos of them, and also get to know the parents quite well, as part of a nursery assistant's role is to liaise frequently with the mums and dads. I really bonded with the children and it's a very rewarding part of the work.
Being Offered the Job
When my college course (and placement) came to an end, I was thrilled to be offered a job back at the nursery and of course accepted straight away! I wasn't nervous starting 'for real', as I already knew the staff and the children, and didn't have to go through a formal interview process.
Responsibility
Now I am qualified, I'm able to take a bit more responsibility, such as planning out activities myself, doing observations and making sure a clean and safe environment is maintained. Sometimes it can get a little stressful, but as long as you have good back-up from the team, then its fine and everyone helps each other.
Further Qualifications
Working at the nursery has also helped me to gain more certificates and I have been able to complete a first aid course, a food hygiene course, a fire marshals course, and a course on behaviour management. This has come in handy for when a child is misbehaving or not listening and you need imaginative ways of dealing with the situation. My preferred method is to give the child some space – some thinking time, to assess the situation.
Character
To do this kind of work, I would say that you have to really love kids and probably be able to be quite patient. I would describe myself as a caring and hardworking person and also quite bubbly. I even look after children in my spare time and enjoy babysitting for the younger siblings of friends and family!
The Future
My plans for the future are to progress in the nursery, and maybe one day in the future also try working as a children's nanny.
RUN A DAY NURSERY IS FOR SALE.
This website is for sale [more info].
You might also like...