Interview With a Trainer of Day Nursery Staff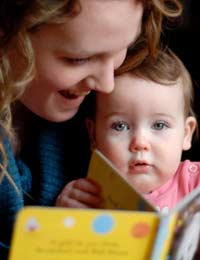 Lynne Smith is a Nursery Nurse Trainer for a small group of private nurseries in the West Midlands. Here she talks to run a Day Nursery about her job.
RADN: How did you start out working in the nursery industry?
LS: Well, I have always loved children, and just knew from quite an early age that I wanted to work with them when I left school. So as part of my GCSE's, I took a course in child development and also did a placement with a local nursery.
RADN: What qualifications did you need?
LS: I went to college and took a BTEC National Diploma in Childhood Studies, but there are actually quite a few routes you can take – including other courses such as NVQ's, CACHE Level 2's, and City & Guilds. One common route is actually to start as a nursery assistant and under supervision, do your courses step-by-step whilst working at the nursery like an apprenticeship.
RADN: Describe your career progression
LS: I started in a nursery, assisting another nursery nurse an then once I had got used to the way things worked, I became a room leader. Then after I'd got a couple of years experience under my belt and some more qualifications, I was promoted to being a Senior Nursery Nurse, then Assistant Manager of the nursery and finally went on to become Manager, which gave me experience in managing and training staff.
RADN: What did this job involve?
LS: Managing a nursery is a busy and rewarding job, but you have to be organised. I would say there are basically three sections; the practicalities of the building itself – for instance knowing and practising fire regulations, complying with health and safety and environmental issues, keeping the building safe and well maintained etc. Then there's the core goal of the nursery itself – i.e. making sure that the children are in a happy, bright, warm, friendly environment where they feel safe, secure and can have great fun whilst learning. This involves planning and supervising activities, events, meeting curriculum targets, liaising with parents and so on. And then there are the managerial aspects of the job which entail budgeting, keeping accounts, making sure the admin is up to date, and recruiting, training and supervising staff.
RADN: Tell me more about how you progressed to the training aspect of the job
LS: Well my nursery is privately owned along with two. This means there's 45 staff working across the three nurseries. I already had dealings with some of the other staff, as if I was short-staffed, we'd sometimes be able to 'borrow' a member from one of the other nurseries or vice versa. But after I'd worked in management for a while and had achieved my Early Years Professional Status (EYPS), I was approached by the owners to see whether I would help create a Human Resources role working full-time across the nurseries recruiting and training staff.
RADN: What does a typical day involve?
LS: There's no such thing as a typical day! OK – let's see. My day starts at 7.45am when I arrive in the office. I need to be on call in case any staff are sick or don't turn up, in which case the nursery will report it. Then during the course of the day, I might spend a few hours at one of the nurseries mentoring, training, supervising apprentices, finding out how new members of staff are doing, trouble-shooting problems and advising the management team. I have regular meetings with all the Managers and we go through each aspect of staffing issues and determine where someone might need help, further training or – occasionally, disciplining. Another part of my day might be spent planning a team-building exercise for the staff, conducting job interviews, applying for DBS checks, talking to colleges about upcoming students and organising placements for them. It's a busy job!
RADN: What do you look for when you are recruiting someone?
LS: I look for someone who is bright, friendly, caring and who can demonstrate that they really love and want to work with children. As long as the desire is there, we can work with the rest by encouragement, support, and training.
RADN: What are your likes and dislikes about the role?
LS: I love the fact that the role is so varied and also that I'm dealing with people all day. However, although I am proud of my career progression and wouldn't change my job, I do miss that one-to-one bond with the children that only a nursery nurse can really have. Mind you – I have children of my own now – so I still get that!
RADN: What would your advice be to anyone out there who works in a nursery and is ambitious to succeed?
LS: Keep working hard, take every opportunity that comes your way including further training options and just go for it!
RUN A DAY NURSERY IS FOR SALE.
This website is for sale [more info].
You might also like...