Setting Up Healthy Meal Plans for Day Nurseries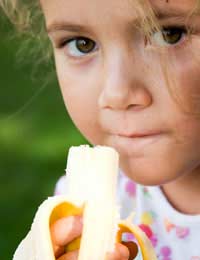 Owners of day nurseries must plan carefully for the nutrition needs of the children in their care, because healthy eating is an important factor in preventing diseases and obesity, and consuming a good diet is vital for overall health. Utilising recipes for meals and snacks that incorporate fresh, healthy ingredients and avoiding those that can pose problems for some kids (such as those with food allergies) can encourage kids to develop good eating habits that they will take with them throughout their lives.
Preferred Ingredients for Children's Meals
Ideally, all of us would consume diets rich in nutrient dense foods and avoid those that provide empty calories, or worse, include ingredients that may prove harmful to our health. When feeding children, paying attention to the healthfulness of the foods is even more important because their growing bodies need good fuel to promote healthy development. Utilising fresh produce is preferable whenever possible, to maintain the highest standards of nutritional value. Since it is not always possible to find and store ample amounts of fresh ingredients, frozen or tinned varieties can be used, ideally without added colours or sugars. Whole grain breads, crackers, and pastas are good choices, and including reasonable amounts of lean proteins and fresh dairy products can round out a well balanced diet for children.
Common Sources of Food Allergies in Children
Common sense dictates that caregivers exercise caution when feeding children, especially when considering the following eight foods, which can account for up 90% of food allergies in children.
Milk
Eggs
Peanuts
Tree nuts – including walnuts, almonds, and cashews
Fish – including cod, flounder, and bass
Shellfish – including shrimp, lobster, and crab
Soy
Wheat
While many of these foods are considered healthy, they may pose problems for sensitive kids. Most child care centres avoid all nut products since kids who are highly allergic have been rumoured to have reactions if a nearby child opens a package of snack nuts, simply by virtue of breathing in the small particles that get into the air. When it comes to the health of kids, it is best to be cautious.
As for the remainder of the foods on the list, they should be avoided for babies, but older kids are likely to tolerate them well. It is wise for centres to require that new foods are first introduced in each child's home before the child is allowed to consume them at daycare, so that if they are sensitive to them, their parents are close at hand. Once it has been established that a child is able to have a particular item with no ill effects, it can be included in the child's diet at the nursery.
Kids with known food allergies must have them prominently noted in their school files so that staff members will not only know to avoid feeding these items, but can be on the lookout for signs of allergic reactions in these kids.
Choking Hazards for Children
Choking on food is a very real concern for children, so caregivers need to be sure that all children, from babies to school aged kids, are well supervised during meals and at snack times. Babies should be given small bits of food and care must be taken to be sure that they have swallowed before offering additional bites. Toddlers, who are likely learning to self-feed, may have a tendency to overstuff their mouths, so a responsible adult needs to remain close by, supervising their eating and limiting the amount of food that they have on their trays at one time, adding bits as they eat.
All members of a nursery staff need to be trained and certified in CPR so that in the event of a choking (or other) emergency, they will know how to respond. Centres may wish to host annual classes for staff members to keep their skills and certifications up to date. Some centres invite parents to participate, as well, helping them to be prepared in the event that their children experience a medical emergency.
Understanding Proper Portion Sizes for Children's Meals and Snacks
It is very common for young children to eat just a few bites and then refuse the remainder of their meal, which can be frustrating for parents or others who feel that the kids should be eating more. Healthy portions for kids are actually quite small, though, so children should not be forced to eat more than what makes them comfortable at a single setting. Childhood obesity is at an all time high, with overly large portion sizes account for a part of the problem. As long as children are eating a variety of healthy foods, there is little worry that their nutrition will suffer. Children should be encouraged to eat frequent, small meals and snacks made from healthy ingredients, guaranteeing that they will have the fuel they need for growth, development, and abundant energy.
You might also like...
hi, thanks for this info above. am in the process of planning to open a nursery school in a low income group area of Harare Zimbabwe and am exploring ideas for cheap but nutritious meals. Could you help with suggestions. I will be able to charge for the food but not too much as there is a financial crunch. Any ideas? REGARDS, Noni
noni
- 18-Nov-14 @ 10:35 AM