Nursery Hygiene Regulations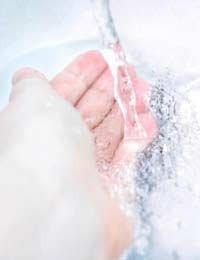 Hygiene policy in nurseries is of utmost importance. With young children dependent on staff for nappy changes, toilet training and the preparation of their food, it is vital that nursery nurses are properly trained and follow good practise guidelines.
Certification and Codes of Good Practise
Staff who have undergone food and hygiene training should have this clearly displayed in the nursery foyer, together with the member of staff responsible for Health and Hygiene in the nursery. Other codes of conduct and certification such as Risk Assessments, a No Smoking Policy, Food Hygiene Certificates, Environmental Health Registration and Public Liability Insurance should also be on display where parents can see them.
Designated Areas
Each purpose-built day nursery must have separate designated areas for bathrooms, toilets and kitchens, with adequate ventilation to all and safe, maintained equipment where appropriate. Ofsted state that nurseries should ensure children are not at risk from cross-infection due to poor standards of cleanliness, and so hygiene policy and procedure should be displayed at key points throughout the nursery for all to see.
Nappy-Changing
When babies need a nappy change, staff should first put on disposable gloves and an apron and wipe down the nappy-changing area and mat. They should then lay out clean paper towels under the child before removing the nappy. Dirty nappies should be disposed of safely in a sani-bin and the bin removed entirely from the area each day for collection by a specialised firm. After having cleaned and changed the baby, the nurse should wash hands thoroughly with anti-bacterial soap and scrupulously cleanse the area with anti-bacterial spray.
Toilet Training
For children who are being potty-trained, any 'misses' or accidents should be wiped up immediately and the area washed down. Potties should be sluiced out, washed and dried thoroughly and again, hands washed with anti-bacterial soap.
Sick Children
If any baby or child is sick in the nursery, the mess should be cleaned with paper towels, disposed of in a separately designated waste bin and the area washed with warm water. Biohazard solution can also be used to treat the affected area. Any clothes on the child should be removed and securely tied in a bag to be given to the parents on collection, whilst any nursery fabrics should be taken to be laundered.
Hand-washing
A fundamental step to all hygiene is meticulous hand-washing. All children should be taught from an early age the principal of washing hands after playing outside, touching animals, getting messy, before and after eating and whenever they have used the bathroom. They should learn independence to do this themselves as soon as they are able and thereafter supervised. Other aspects of personal hygiene should also be taught and encouraged.
The Kitchen
The kitchen is another key area for strict hygiene regulation and it is essential for nurseries to adhere to food safely management procedures as set out in the seven principles of Hazard Analysis and Critical Control Points.
HACCP
Hazard Analysis and Critical Control Points – or HACCP – is the name for regulation pertaining to hazard assessment and food safety issues to which day nurseries (along with all premises handling foodstuffs) must comply. Seven key principles are listed as follows:
Conduct a hazard analysis
Identify critical control points
Establish critical limits for each CCP
Establish critical control point monitoring requirements
Establish corrective actions
Establish record keeping procedures
Establish procedures for ensuring the HACCP system is working as intended
Layout of the KitchenThe layout of the kitchen must follow stipulated guidelines where a 'flow' from food preparation to service can be seen and the risk of cross-contamination of raw and cooked foods minimised, if not eradicated. Children should be restricted from entering the kitchen and any baking to be done with them as part of play should be done so in a different area of the nursery.
Food Hygiene Policy
The nursery's food hygiene policy should again be displayed in the kitchen where all can refer to it. All staff using the kitchen or handling food should have been on a designated course and so be aware of such operations as using colour-coded chopping boards, using separate sinks for hand-washing, food washing and dishwashing, where they can find the first aid kit, what to do if they cut themselves, and the thorough cleaning of the kitchen and utensils after use.
General Cleaning of the NurseryNursery's must also put into place a rigorous cleaning schedule where elements of the building and contents are routinely cleaned, disinfected or sterilised according to need. If in doubt or needing further information, they will be able to refer to their local Environmental Health Officer for more help and advice.
RUN A DAY NURSERY IS FOR SALE.
This website is for sale [more info].
You might also like...