Going Green: Your Nursery and Environmental Issues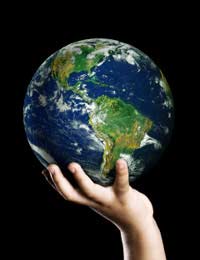 Being 'green' seems like a relatively new and trendy concept which has crept into the national consciousness over the past few years and a bandwagon which places like supermarkets have taken on with enthusiasm in the shape of Bags for Life etc.
But going green is more than merely a grand gesture or two (although these can help!) but rather about an attitude and way of life.
And what better place to start developing this way of life than with the next generation!
Re-using and Re-cycling Materials
Of course, in some ways, nurseries have really been pretty green for a long time. There has long been a fantastic tradition of re-cycling and re-using rubbish and other old materials to create wonderful works of art out of junk, old fabric, used wrapping paper etc. But while 'junk art' is great, this is really just the tip of the iceberg. Children of nursery age are very receptive to learning at all levels and most environmental issues can be introduced very simply in ways which inspire and teach the children important facts which support the national curriculum and also help them to be responsible citizens of the future.
Teaching Children about the World
There are all kinds of ways in which children learn about the world about them through exploration and play. But perhaps try to also help the children to ask questions about where the products they wear and play with have been made and who might have made them. Also, find out what the children think happens to the items they play with once they break or are old. This can introduce topics of rubbish, recycling, and geography.
Topic Work
In this way, your nursery can run a series of play and exploration sessions by introducing different environmental issues. An excellent way of doing this is to theme your subjects. The number of topics is almost endless, but some ideas to help you get started might be:
Organise an Eco day
Accompany children to a re-cycling centre, local tip, or sewage works
Show the children a DVD of a bottle recycling plant
Invite a local speaker to come in, such as from the RSPB or Friends of the Earth
Make an eco-pond and/or wildlife garden
Have a Weather Day and teach children about the climate
Teach children about animals at risk of extinction
Talk to the children about where their food comes from
Greening the Nursery
But its one thing telling the children all about green issues, if they don't see these ideas put into practice by the nursery staff. Some simple changes can be made in the way the nursery is run and which also help it to operate in a more environmentally friendly way. Some examples would be:
Change light bulbs to energy saving ones and switch off when leaving a room
Build a compost heap in the nursery garden for food scraps
Turn the heating down one notch or more
Use 'eco' paints and glues
When renewing furniture or toys for the nursery, make sure it is from an environmentally sound source and made from non-toxic materials
Make sure the food being served is organic, locally grown and has not travelled miles or been stored for too long
Think about changing staff uniform to being made from unbleached, organically grown cotton or another environmentally friendly material such as fleeces from recycled plastic
Reduce consumption and re-use or re-cycle materials whenever possible
Get Parents Involved
And don't just stop at telling the children about how to look after themselves and our planet - tell the parents what you're doing too! 75% of parents think that children can never be too young to begin learning about environmental issues and that they should be taught from pre-school age - and nearly 90% feel that it is important for children to regularly do something which helps the environment.
Help
If you want to do something but are not quite sure where to start, don't be afraid to ask for help. There's lots of information and resources out there, from useful websites and curriculum materials to lesson plans and willing volunteers! So, get stuck in and do something green today!
RUN A DAY NURSERY IS FOR SALE.
This website is for sale [more info].
You might also like...