Structuring Days Appropriately at Day Nurseries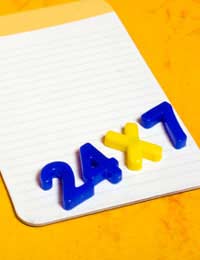 When parents place their children into day care situations, they need to be assured that their kids will spend some of the day reading and learning, but that the lesson plans will have allowed ample time for activities that are less "educational," including playing games, doing puzzles, and creating crafts. A well structured day provides children with a balance of various activities, as well as making time for sufficient rest.
Establishing a Routine
Most kids are happier and function better when they know what to expect from day to day, so establishing a routine can not only make days run more smoothly at nurseries, but will likely result in groups of better behaved children. Ideally, each day should include time for a number of activities including some that are physically active. Childhood obesity is at an all time high and one of the most important factors for the decline in children's health is that this generation is far more sedentary than those of their parents and grandparents.
When planning activity schedules, day nursery owners may want to block out the day in half- or quarter-hour segments, and then fill in each with activities that alternate between indoors and outside, quiet and active, structured and free time. By doing this, they can see at a glance whether or not they have allowed for a healthy balance of activities. It's usually wise to allow a certain period of time at both the beginning and the end of each day for flexible, free play time because it can be hard to keep groups of children focused on concentrated activities while parents are dropping off and picking up.
Balancing Work and Play
Kids need to send some time each day on activities that are designed to be educational, but fortunately, most of the learning that children do doesn't have to feel like "work." Utilising ordinary moments to teach children is very effective, and they learn effortlessly, picking up lessons all throughout the day. While younger children do not need (and really don't benefit from) organised time slots that are dedicated to specific lessons, kids from preschoolers and up do need some structured lesson plans, if for no other reason than to help them to develop patience for sitting and staying with tasks until they are completed. Finally, all children should have some time throughout the day when they are allowed to choose activities for themselves so that they have some opportunity to engage in their favourite pastimes.
Balancing Exertion and Rest
Children need daily exercise, but they also need some quiet time to rest. Caregivers typically schedule two nap periods per day for babies, with toddlers taking only an afternoon nap. While older kids are less likely to sleep during the afternoon, it can benefit them to have a segment of quiet time as they transition from their midday meal to boisterous afternoon activities. Reading, sketching, listening to relaxing music, or participating in a session of stretching or yoga can help kids to unwind, teaching them young about the value of down time.
Choosing Appropriate Meals and Snacks
In order for kids to grow, develop, and learn well, they need to be provided with nutritious meals and snacks at regular intervals throughout the day. Developing menus using the most simple and natural ingredients is best for kids, with a focus on fresh fruits and vegetables, whole grains, and lean proteins. Sweets and "junk" foods should be avoided as children are typically able to consume only small amounts of food at any given time, so it matters a great deal that the foods they eat are rich in nutrients. Most children do best when they are allowed to eat every few hours, with fresh water available to them at all times of the day.
With proper planning, the time that children spend at day care can be full and meaningful, helping them to develop into the bright and confident beings that they are meant to be.
RUN A DAY NURSERY IS FOR SALE.
This website is for sale [more info].
You might also like...
The site is full of quality information for almost every topic one might need under Childcare. With simple explanations, the contents are very easy to understand and even put into practice: its practical advice. I have justifully put it under my favourites list without any hesitation. The website is so helpful. Thank you for the hard work
ERJK
- 26-Sep-12 @ 6:58 PM