Stimulating Kids' Intellects at Day Nurseries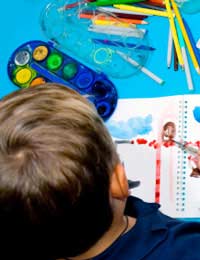 When children are in day care facilities, it's important that activities are planned that stimulate intellect, with an emphasis on preschool curriculum for young kids and teaching that supports the lessons that older children are pursuing in their regular education. Early learning is vital for children, who are developing interests and habits that they will take throughout their academic careers, so all centres should have a good supply of books and other learning materials available to children of all ages.
Stimulating Activities for Babies and Toddlers
Babies benefit a great deal from one-on-one attention, with caregivers talking to them, holding them in positions that allow them to view the world around them, singing, and reading books. Even when they are too young to understand the words, studies support the notion that babies who are read to and sung to become earlier readers than their peers, so introducing infants to the pleasures of books is truly a gift for their future intellectual development.
By the time that they are toddling, young children are likely to have a few favourite songs and stories that they will request over and over. Indulging their preferences can help them to continue their affection for the written word, as well as letting them know that their caregivers value them enough to pay attention to their requests.
One of the easiest and most effective ways to stimulate intellect is to engage children in conversations, even when they have very limited vocabularies. Early learning has very little to do with "formal" education and is more about encouraging children's natural curiosity. Using descriptive language ("Look at the big red truck!") and encouraging kids to utilise all of their senses will help them to be ready for the education that follows.
Integrating a Preschool Curriculum into Day Nurseries
Many children spend a large portion of their day in the care of nursery staff members, so it is important that the time isn't wasted. Establishing appropriate learning goals for each age group is wise, with a specific preschool curriculum for those almost ready to begin their school years. Choosing books and learning materials that teach pre-reading skills, colour recognition, and early writing instruction can help kids to enhance their learning, right from the start.
Providing Tutoring at Nurseries
Even the brightest students may experience difficulty with a subject now and then, so nurseries that care for school aged children will have parents singing their praises if they provide tutoring services. Helping kids through the occasional rough patch can not only help their intellectual development, but by showing them that they can master work that they find confusing can do wonders for their self-esteem.
Encouraging Hands-On Learning
Children tend to prefer "doing," rather than hearing about things, so whenever possible, nursery teachers and helpers should allow kids to put their lessons to use in their everyday activities. For example, finding ways to bring math to life can be as easy as encouraging them to measure ingredients for baking cookies, or dividing the number of cookies baked by the number of children in attendance to see how many each child can have. By teaching in fun (and delicious!) ways, kids will find that learning is a pleasure!
RUN A DAY NURSERY IS FOR SALE.
This website is for sale [more info].
You might also like...